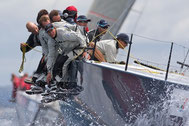 How to make a team more efficient, productive and solid ? How to make a team present a united front ? Sport teams should know the answer for sure.
We usually think that training is the best way to create the community spirit. But most of the time people attend to Workshops without really committing to ideas and speeches. No doubt that training is useful but it is essential to go a bit further to get more significant results. 
Team Coaching has shown many times its amazing impact on self-responsibility and real commitment. 
This approach aims to put back individuals at the heart of the system and to engage them towards  : taking responsibility, expressing and confronting opinions, bringing  solutions and making decisions. 
Team coaching follows a specific methodology and a strict frame into which a collective spirit is expected to emerge.  Individual behaviors and disequilibrium are regulated by the group itself. 
The team renews with the power of deciding and can define its objectives, its ways to reach them and states on its own communication rules.
The results are a higher individual commitment, more trust and a nicer working place which impact the productivity and creativity and reduce communication issues significantly.