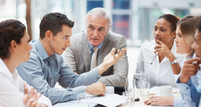 The question is raised by most of the HR professionals today. Being good at something or the expert of the field is no longer enough to lead a team. The seeking of value creation occurs at any level. More than ever, managers are asked to be efficient leaders and to drive their teams toward the objectives in an economic world under a high pressure, but not only.
They are also asked to deal with difficult situation such as : toxic personalities, burn out risks, individual frustrations, turn over, lack of commitment and creativity. Therefore new skills are expected : listening, empowering, understanding, confronting...

Those demanding expectations need to be supported with training and coaching. It is important to remind that managers might risk a burn out themselves or can decide to quit that's why it is crucial to enable them to  take a step back and drive their team efficiently. 
Also it can be extremely relevant to train them on new competencies such as : How to coach my team ? Teach managers the coach tools and posture is also relevant and shows a clear impact on the team.